You've seen them on posters and product labels, and maybe even in magazines or on screens. QR codes are little black-and-white squares people can scan to open a link with their smartphones.
To save you from having to scroll down for the "TL:DR" version (that's short for "Too Long, Didn't Read" 😛), here's the keep-it-simple rundown on how to use QR codes to build a bigger jackpot.
When should you use a QR code?
QR codes are digital… But you don't need to use them online. If you want to lead people to your raffle page from social media, an email, your website, or another online source, just share a button or a link they can click.
QR codes are ideal for signs, posters, things like that. Hit people with your QR code when they're at an event, walking down the street… Anywhere they might be on a phone but not looking at your link (yet).
Best ways to use QR codes
Now this is what you came for — our top suggestions for how to use QR codes.
Keep it simple or get creative — it's up to you and how much time you're putting into raffle promotion. (If you do make something, though, and want a stamp to show the raffle is legit, here's our logo.)
Here are our favourite places we've seen charities put QR codes:
On signs and posters
Posters are essential. Print a bunch and put them in staff rooms, on community poster boards, and anywhere else people might be interested in your cause.
Even better, have community partners or supporters who might want to hang your poster? Send out an email and attach it as a PDF, then ask them to print and post it. (Here's a Canva template to make a poster, if you need one.)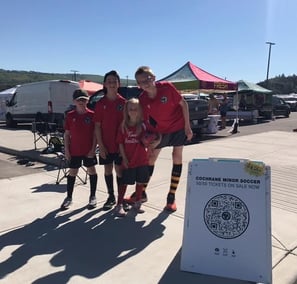 Make sandwich boards and other signs to bring to events, or put them in a high-traffic area during your raffle. Make signs on sticks and carry them around so people can zoom in and buy a raffle ticket, even in a crowd. Put them on buildings. Anywhere people will see these signs, slap 'em.
On t-shirts
Then, wear the t-shirt to events, conferences — wherever you'll be talking to people with an interest in your cause. In Canva, you can even edit the colours of your QR code. (Just because it's a marketing t-shirt, doesn't mean it has to be ugly.)
On screens and jumbotrons
If your jackpot is up on a big screen, make sure there's a QR code beside it so people can zoom in and buy tickets.
On business cards and other print materials
Get business cards with your organization's logo and the QR code. Then, when you're telling people about the raffle, you can help them purchase tickets with a quick scan of the card. In the same vein, tent cards work well for organizations who can promote their raffle at events, in stores, and other places. If your key messages are strong, your visuals are engaging, and the QR code is big and noticeable, your print materials should do the work for you!
Hopefully this list inspires you. Us, though? We've seen those done (and very well.) So, please humour us by considering this list: Places we've never seen a Rafflebox charity put a QR code (but really want to.)
On mugs
Recurring raffles build a community around them — especially when the jackpots get high. If your raffle has "fans", consider doing a run of branded mugs, magnets, or other merch that hangs around offices, schools, etc.
On a cake
Just make sure people scan it before you cut into it.
On a billboard
If the headline turns heads, the QR code will cause scans.
Make QR codes and sell more raffle tickets
So, how are you raising more funds this year? Make sure QR codes are part of your marketing toolkit. Now what? Go make some posters with our Canva templates — complete with QR codes. Or if you're not running a raffle yet, get in touch.