Are you fundraising with limited resources? Then Canva is probably already in your toolkit. If not, let's get you using their free poster, banner, and social media templates to promote your raffle and sell more 🎟️s.
Here's how to market your raffle using Canva templates.
Why do you need graphics to market your raffle?
When we say "online raffles run in the background", we mean people can buy tickets 24/7 when you're online. To buy tickets, they need to reach your raffle page, though. That requires some advertising.
A poster that pops.
Scroll-stopping social media graphics.
A banner that goes boom. 💥
The bare minimum is having something people can see to promote your raffle.
Making your posters, banners, and other graphics engaging is how you'll build a raffle that 🎉 pops off 🎉 (as the kids say.)
So, get Canva. It's free.
Step 1: Get your free Canva Pro account for not-for-profits
if you don't have free Canva Pro for not-for-profits yet, click here to fill out the application now. (All you need is a copy of a financial or governing document that shows you're a registered charity.)
Step 2: Upload your brand assets, images, and more to your Canva account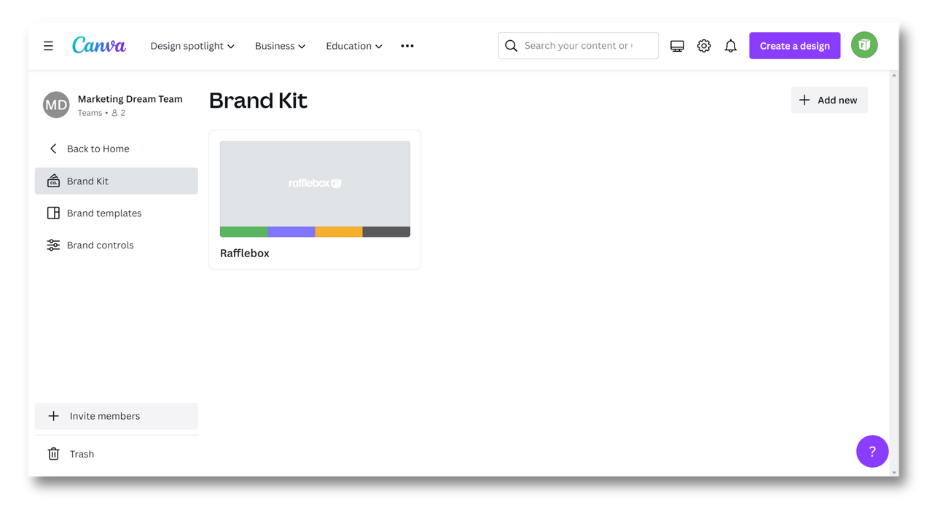 Every charity has a brand, even if it's just one person running the show. Now is a good time to upload anything brand-related.
Here's a checklist for settling into Canva:
✅ Upload a transparent version of your logo (if you don't have one, Canva Pro has a free background remover).
✅ Upload your brand colors and fonts (if applicable.)
✅ Upload any past event or fundraiser photos.
Step 3: Choose your go-to templates
Templates are "fill in the blanks"-style designs you can save and use anytime you need a quick graphic.
Here are a few essential templates you can edit to suit your organization and raffle. You may need more, you may need less, but this gets you started:
Step 4: Edit your template using basic design principles
We want to say it's time to get creative, but honestly, just follow Canva's lead.
Here are some tips as you edit the templates from above:
Stay within the pink lines.
Canva gives you barriers so your image doesn't stretch or get cut off. You can stretch your background color beyond these lines, but don't put any pictures or text outside of them.
You want people to know you're a baseball team. You want them to know you support youth. You want them to know you're running a 50/50. You want them to know the jackpot is big. You want them to know they can buy tickets online.
There's a lot going on.
Develop key messages before you start making graphics. Think about the first thing people need to know and share that in your graphic (i.e.: Best Charity Ever is running a raffle.) Then, share more details in the caption or on the raffle page (like the draw date and how much tickets cost).
Pick your design colors using simple color theory.
Super bright, contrasting colors can be overwhelming. But neutral fades into the background. What to do?
If you have brand colors, they likely follow color theory — the concept that certain colors complement each other and others clash.
If you're a smaller organization with no true brand colors, pick two or three to use when promoting your raffle.
Feeling so stuck you can't even choose colors? Here are a couple of questions to help. (Then, use Canva's color wheel tool to see if your colors work together.)
What are you raising money for?
Sports and recreation?

Orange symbolizes energy! 💥

Programs that support people or animals overcoming challenges?

Purple is the color of courage. 💜

A sports team? Use your jersey or uniform colors. 🧢
The environment? Go green. 🌳
Green also symbolizes money 💸 and luck. ☘️ So, we'd always recommending going with that.
Step 5: Review your graphics and see if they follow the "rules"
Let's do a quick review to see if we're following best practices:
✅ Text and images are within the pink lines.
✅ Less than 20% of your graphic is made up of text
✅ There are two images, maximum, on your graphic
✅ It's extremely clear that you're running a 50/50
✅ Your colors pass this test.
Step 6: Download your graphics from Canva
Every platform requires a different file format, but if you're downloading a(n):
Image

, make it a .png or .jpeg.

Video

, make it an .mp4.

A poster or sign

, make it a PDF.
Now, save your graphics and start using them.
Start marketing your raffle with graphics that convert
We've seen some amazing fundraising campaigns when people take advantage of Canva. If you create any graphics to promote your raffle, tag us on social so we can admire your work.
Not raffling yet? What are you waiting for? Share a few details with us and we'll call you to talk fundraising.