So, we came across a fake raffle page. And while the page is gone now, we figure it won't be the last.
Lottery fraud (also known as scamming) is common – so common, that the Better Business Bureau's 2018 study on Sweepstakes, Lottery, and Prize Scams found that between the FTC, the Internet Crime Complaint Center, and the Canadian Anti-Fraud Centre, over 500,000 complaints were filed from 2015 – 2017. We can guarantee this number is only growing.
So how can you protect yourself and your ticket buyers from online scams? We'll get there, but first let's make sure we can spot a fraud.
Know the warning signs of a fake raffle.
🚩 Someone reaches out saying you're a winner but asks for payment to redeem your prize. On Rafflebox, you won't be asked for shipping charges, processing fees, or any other kind of payment beyond the ticket price.
🚩 Someone contacts you about winning a prize, but you didn't enter a raffle.
🚩 Someone asks for sensitive information like your Social Insurance Number or bank account information.
🚩 You receive an email about winning a raffle from a non-official email address (as in, it's not attached to the organization. This isn't necessarily a deal breaker, but certainly a red flag.)
🚩 The organization contacting you claims to be a government entity (or affiliated with one.) We know raffles, and we guarantee – the government doesn't run them.
This information shouldn't scare you away from buying raffle tickets or running your own raffle, though. Here are ways to make sure you're participating in a raffle that's legit.
Check for the raffle or gaming license number.
It depends on where you live, but most online raffles need a license to operate. If you suspect a raffle is fake, check out the raffle license number. On Rafflebox raffle pages, you'll always find the license number under the ticket prices on the right-hand side or under the "Rules" tab.
Verify the organization.
If a charity is hosting a fundraiser, you best believe they're using all their digital real estate to promote it. Check the organization's name then do a quick Google search – if the raffle is legit, they'll be sharing it on their website and their social media platforms.
Check the rules.
Organizers need a clear set of rules for their 50/50s, prize draws, or other raffles – and these rules must be laid out for ticket buyers. If no rules and regulations are listed on the page where you buy a ticket, there's a chance the raffle is a scam.
Rafflebox raffle pages always have a "Rules" tab, and this section will always include information like:
The draw date and location.

How many tickets they're selling.

When ticket sales end.

Eligibility criteria.
Check out the raffle's rules and regulations. If any of this information is missing, there's a high chance it's not legit (or if it is, the organizers didn't know they legally have to list the raffle rules).
Bonus: Spot a Facebook scam.
How could we talk about online scams without referencing Facebook? Scammers create fake Facebook "like and share" contests to steal our data and use it for marketing purposes (or even to sell.) Worst case scenario, engaging with these posts may even trigger a virus on your computer.
The Nova Scotia Firefighters run their (legitimate, licensed) raffles through Rafflebox. As you can see, they have a substantial amount of "likes" and "followers", which is a good sign the account is real.

Look at the page's "About" section – do the address and website seem legit? (In this case, they are.)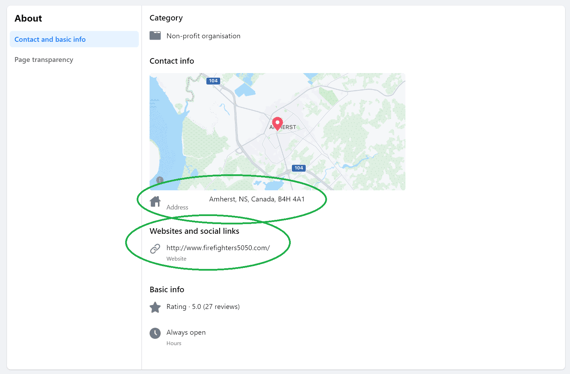 Another indicator is the "creation date" of a page. You can check this out under the "Page transparency" tab. Is the page brand new or has it been around a while? If it's a fresh page running a major contest, something may be off.

Now let's look at a fake Facebook giveaway.
Check out the organization's name – doesn't sound very legit, does it? Don't forget to check the date the giveaway was posted, too. Was the giveaway launched soon after the page's "creation date"?
All these hashtags are a bit of a giveaway, too. (Pardon the pun, or don't if you like puns.) A real giveaway likely wouldn't use a wall of non-specific, spammy hashtags to draw in real participants.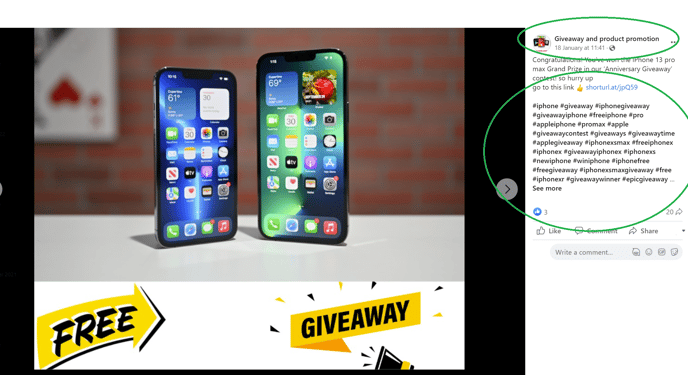 More scam indicators for our friends at the very legitimate business "Giveaway and product promotion": "Likes" and "followers" on the page are super low, the address and phone number are fake, the email address seems to be attached to a name instead of an organization, and the website isn't real (well, it might be, but we didn't bother clicking. With a fake-looking URL like that, it risks a virus.)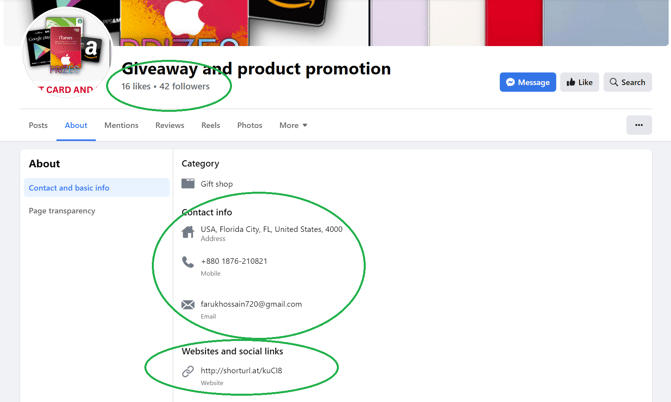 This page also has a "creation date" just weeks before the fake giveaway launched. We call shenanigans.

And a bonus fact: It might surprise you that Facebook has a rule about asking users to "share" a post in exchange for a contest entry.
The rule is: You can't do it.
Lots of groups still do, but this could be another indicator of a fake giveaway. Real companies and organizations won't want to risk compromising their Facebook account by breaking contest rules.
Protect yourself from scams with top-notch technology.
As individuals, we can't prevent scammers so much as avoid them. As a tech company that supports charities through our platform, we do everything we can to make purchasing raffle tickets a simple, highly secure experience.
Be on the lookout for scams and if you see something suspicious, click that "report" button. Even better, if it's as Rafflebox page you think is fake – email us and let us know. We exist to help charities raise more money, and being associated with scammers won't help do that. If you're running a raffle and want to make sure all your Is are dotted and Ts are crossed, get in touch. We'll set you up and then you're off to the races (or you're off to the raffles… We'll see ourselves out.).