Your organization isn't one-size-fits-all, and neither are your donors. If raffling is part of your fundraising strategy (or has the potential to be), make sure you're running one that's custom fit for your goals.
50/50 Raffle
A classic 50/50 is a fuss-free fundraising option. You build a Jackpot from scratch then when you draw the winner, half of it goes to them and half to your organization. 50% for you, 50% for the winner. Pretty clever, huh?
We don't know what else to say. 50/50s. They're pretty self-explanatory.
50/50s are:
Are the most popular option for first-time Rafflebox charities.

Ideal for organizations who aren't working with a prize.

Flexible – you can run them every week, every month, or just once (and we see big results with consistent 50/50s).
The Nova Scotia SPCA runs a weekly 50/50 raffle (and has been running it for over two years.) By running a regular 50/50 (no add-ons, no combination – just a 50/50 Jackpot), the organization has raised up to $24,000 a week – equaling more than $1 million over the course of two years – for their cause.
Prize Raffle
Prize raffles are really fun – especially if there's an exciting prize. We've seen groups give away cars, RVs, vacation packages... Does this get your sponsorship wheels turning?
🔥 Hot tip: Is there an opportunity to team up with local businesses and community groups to get your hands on sought-after prizes? Some of our charity partners get prize donations from their partners – ideal if you want to maximize earnings. We've also seen charity partners purchase major prizes at cost.
Prize raffles can be as big or as small as you have the resources to handle – it's all about promoting that prize. Airdrie Health Foundation's raffle for a 2022 Bronco (yeah, the SUV) was a huge success, seeing them raise over $44,000.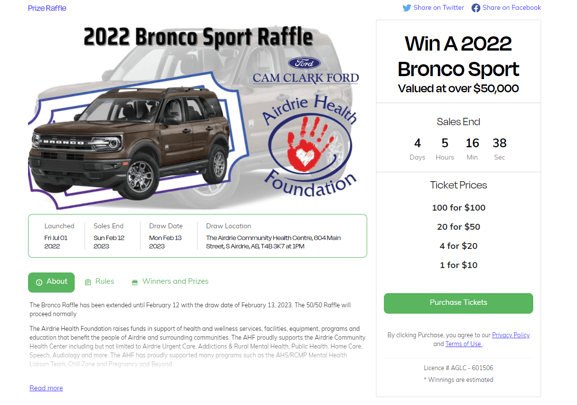 Want to guarantee your prize will be exciting to everyone? Make it cold hard cash. The Alberta SPCA has run multiple cash raffles, with their Spring 2023 raffle giving away $90,000 in cash prizes – the grand prize winner takes home $25,000, two second place winners get $5,000, and 25 runners up get $1,000. So a total of 28 potential winners (and that's not counting the Early Bird add-on. We'll get to those later.) Not bad.
Having multiple winners gets more people excited about your raffle (and hopefully more people sharing their win and big love for your organization on social media and beyond). It also gives you a great key message for your raffle promotions – more winners means better odds, which means chances are high which means, you need to buy a ticket, right? (Perhaps don't copy and paste that one for your next social post.)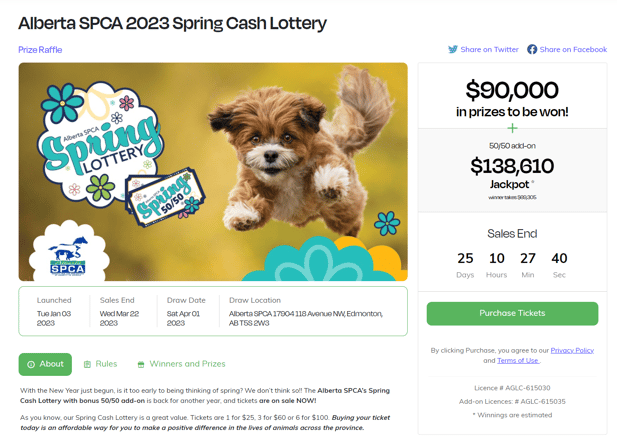 Combination Raffles and Add-ons
So, there's cash, and there are prizes. But you're not restricted to raffling off just one or the other.
Combination raffles are a chance to run multiple draws at once. You still have one raffle page, and you still have one button for people to purchase their tickets – but once they click "Purchase Tickets", they'll have a chance to add your other draws to their total purchase before completing their checkout.
Airdrie Phoenix Swim Club runs an RV prize raffle plus a 50/50 add-on – what we also refer to as a "combination raffle". This means when donors purchase a ticket to win the RV, they can also add a ticket to qualify for a 50/50 Jackpot. More chances to win, more chances to sell tickets. Win, win, win.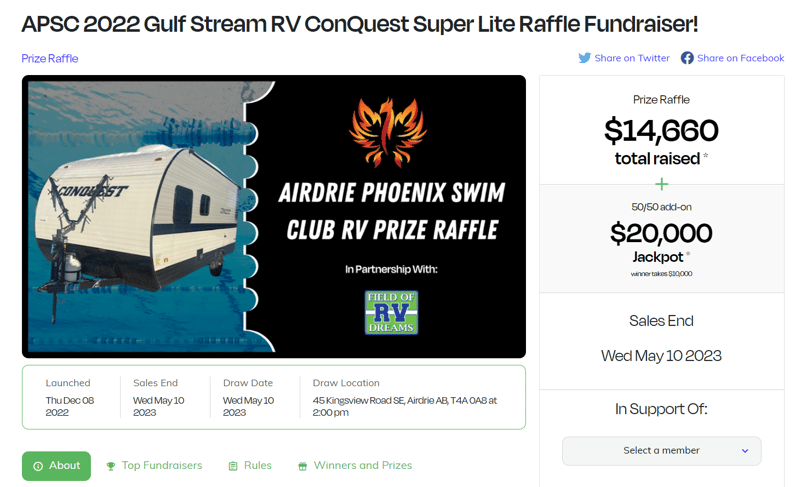 Early Bird Draws
Most organizations raise the most funds during the last few days of the raffle. 📈 Which is cool – but if you want to keep sales strong throughout the fundraiser, Early Bird draws can create some real urgency.
An Early Bird draw is an additional prize (it can be an item or a dollar amount, doesn't matter) that ticket buyers automatically enter to win when they purchase their tickets before a specific deadline (aka, the Early Bird date). This incentivizes people to buy their tickets earlier in the raffle timeline, helping that Jackpot grow to an exciting number. People who enter before the Early Bird Deadline are eligible for both the early bird prize and the grand prize or Jackpot.
Early Bird Draws are extra raffles added to your 50/50, prize, or combination raffle. These draws build anticipation before the Grand Prize Draw, giving you a chance to sell more tickets throughout the campaign and not just at the beginning and end (which is a typical pattern we see.)
The Nova Scotia Firefighters Association run weekly 50/50 raffles, with their biggest Jackpot hitting almost $3 million. Yes, that's $1.5 million in fundraising for the organization in just one week. They run Early Bird draws for $1,000 cash prizes two days before the weekly Grand Prize Draw, helping them grow the Jackpot throughout the week instead of just in the final hours until the draw. It's also just a great opportunity to see more winners each week (which results in more people talking about the draw, which means more sales, etc. We love viral coefficiency.)
Early Bird Draws are also a great way to keep ticket sales consistent over longer campaigns. For example, the Calgary Catholic Education Foundation do bi-weekly cash draws leading up to the final Grand Prize Draw to encourage people to buy their tickets early and grow the Jackpot.
Get a fundraising solution that fits your goals
So, what are you fundraising for? What do you have as a prize? Chat to a Sales Rep from Rafflebox to see what kind of raffle can boost your fundraising results.