We say things like "the sky's the limit" and "don't stop 'til one million!" about your raffle fundraiser around here.
But if partnering with an influencer to promote your raffle seems way out of scope, you might be thinking too big.
Here's how working with an influencer or content creator can be simple and achievable, but make a big impact on your jackpot. 💲
First of all, let's agree on who's an "influencer".
The dictionary says: "a person who inspires or guides the actions of others."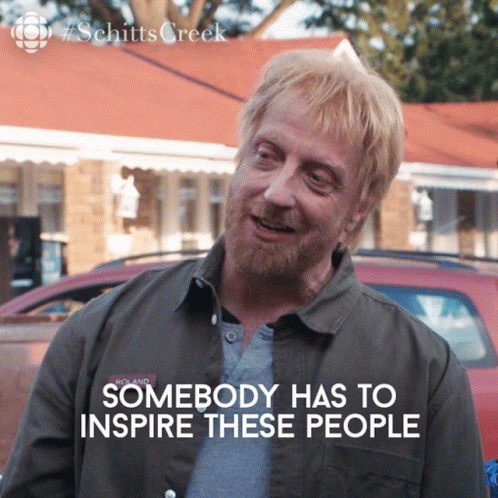 Professional influencers will likely need compensation to promote your raffle. And don't get us wrong, if you have a budget, this might be the way to go.
But if you're working with little to no budget, strive to partner with community leaders and local champions for your cause who have a social media audience. 📲
So how do you choose somebody (or some puppy… ) to partner with?
The best partnerships come naturally, like this Instagram partnership between Dogfluencer, Percy Doodle and the Nova Scotia SPCA.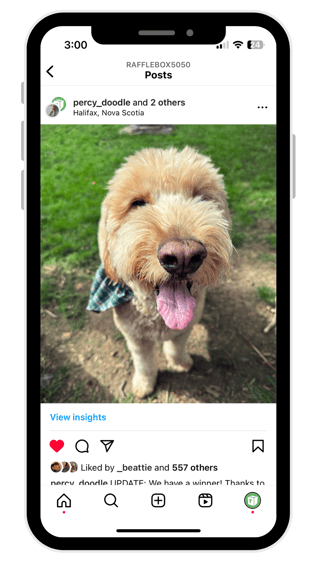 After reviewing their average jackpot growth over the last year, the SPCA set a new goal and were open to fresh ideas for growing ticket sales, including an influencer partnership.
So, did the partnership help the Nova Scotia SPCA raise more with their raffle?
Quick version: Yes.
The Nova Scotia SPCA reviewed their ticket buyer data to see how many *new* people bought tickets since the partnership post went live. They found that 210 people bought their raffle tickets for the first time, helping them surpass their new jackpot goal four weeks (and counting) in a row.
If you're running a raffle and think an influencer could help you spread the word, here's a checklist for planning an effective partnership.
How to find an influencer to promote your raffle:
☐ Find someone passionate about your cause
People follow people (or dogs) they can relate to.
Percy's audience is passionate about animal welfare, so a partnership with the Nova Scotia SPCA just made sense.
☐ Check their "Top Locations"
Instagram and Facebook "business accounts" can find out where their followers are from under "Top Locations".
Percy's "Top Locations" include Nova Scotia, so the Nova Scotia SPCA knew working with him would help them zero in an audience eligible to buy tickets.
☐ Make sure the influencer has a good "engagement rate"
Someone's "engagement rate" tells you how many of their followers actually comment on, share, and react to their posts. Percy has ~33,000 followers, but more importantly, his followers show interest in what he has to say.
☐ Decide how you'll get traction out of the partnership
If you have a budget to promote your raffle, you could run a giveaway like the Nova Scotia SPCA did with Percy.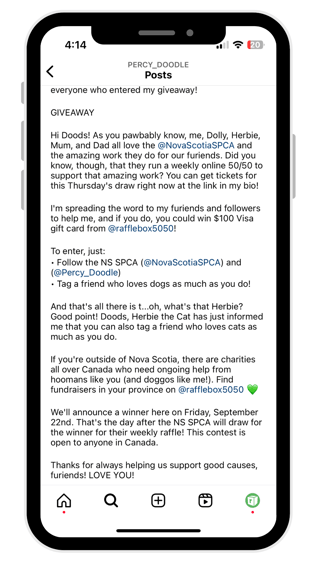 If there's no budget, you can still reach out to influential people and ask them to share your raffle in a low-effort way, like sharing one of your existing social media posts about it or by making a quick selfie video letting people know about the fundraiser.
Then, get ready to reach out with this checklist:
☐ Write a super clear description of how the partnership works
Answer questions like: If it's a giveaway, who's responsible for what? When do you need the post to go up by?
☐ Confirm what kind of content you're looking for
Do you want them to make a selfie video or write a story about why they care about the cause, or are you okay with them taking creative control? Let them know upfront.
☐ Give them 3 – 4 key messages
Answer questions like: Why are you fundraising? How can people buy tickets? When do ticket sales end?
☐ Give them the raffle page URL and all of your social media handles for tagging
Can you raise more with influencers?
Ask the Nova Scotia SPCA. If this sounds exciting but you don't know where to start, leave your email and we'll reach out: