The Nova Scotia Firefighters' 50/50 Draw is a household name in the province — and with jackpots consistently reaching ~$400,000 a week, it's no wonder why. How did they grow one of Canada's biggest raffles, though?
The Nova Scotia Firefighters:
• Run a weekly 50/50 raffle with six extra chances to win $1,000
• Serve 280+ volunteer fire departments across the province
• Raise funds for training, equipment, facility upgrades, and supporting other community causes
• Reach between $350,000 and $400,000 in total ticket sales each week (not including their their cash prize add-on earnings)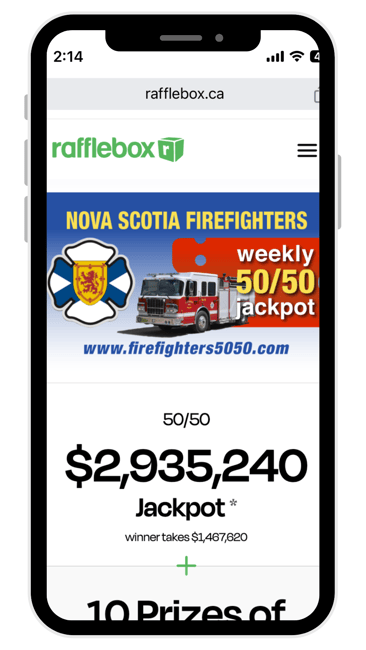 Why is the Nova Scotia Firefighters' 50/50 Draw so successful?
1. They track top sellers (and distribute funds accordingly.)
Ticket buyers select which community they're "supporting" each week, and whichever department sells the winning ticket gets $1,000 bonus PLUS their share of sales from that week. It helps keeps things fair, and the community loves to see exactly where their dollars are going.
2. They're active on Facebook and always have ads running.
With ~50,000 Facebook followers, NSFD is consistent in sharing their message. They do it by:
• Always posting Early Bird, cash prize add-on, and 50/50 winners on draw days.
• Encouraging individual fire halls to be active on their Facebook pages and share what they do with funds. Then, NSFD shares it with a raffle link.
• Running targeted Meta (Facebook and Instagram) ads to reach people outside of their existing followers.
3. They send reminder emails and texts (SMS) to past ticket buyers.
With jackpots like this, you know their past ticket buyer list is big. NSFD sends weekly reminder emails and texts to people who have entered the draw before. No surprise, it generates a lot of ticket sales. (People are forgetful.)
Having a dedicated raffle admin is a major success factor. Someone who takes care of "paper work", advertising, and awarding prizes (and does it well.)
It also helps to have a strong, committed community behind your cause. (And listen, we're not saying raffles aren't universal, but no one gets behind a raffle quite like a rural community.)
Plus, they're using Rafflebox, and we make it easy to build a simple, successful raffle.
Why does the Nova Scotia Firefighters' 50/50 keep growing?
NSFD's membership is consistently growing, and that's because people see the raffle's success and want in on it. In turn, with more members promoting the raffle, NSFD gets wider reach.
"When the pandemic started to restrict our community events, I knew we needed to explore an online fundraising option. Eight fire halls got together to fundraise with a 50/50, and three years later, we represent over 280 agencies."
NSFD continuously shows fans how they're using funds to support communities in Nova Scotia, and when you can make your cause relatable and show people exactly what their dollar is doing, you'll see fundraising success.
"This draw has become more than we ever could have imagined. People are winning jackpots and it's changing their lives in our small communities. Not to mention, these funds raised give our departments the right resources to take care of their communities. That's what we're proud of above all else, the community impact."
- Andrew Wallis, NSFD Raffle Administrator
Ready to raffle?
We're ready to help. Submit your email and we'll send you a platform overview: